The Democracy Paradox podcast brings scholars from political science, sociology, economics, and other disciplines to discuss social and political ideas. The aim is not to debate policy or politics, but to introduce new concepts to listeners so they can understand politics and society better. The host, Justin Kempf, works to create conversations that test our assumptions about democratic governance, while offering hope for the success of democratic ideals.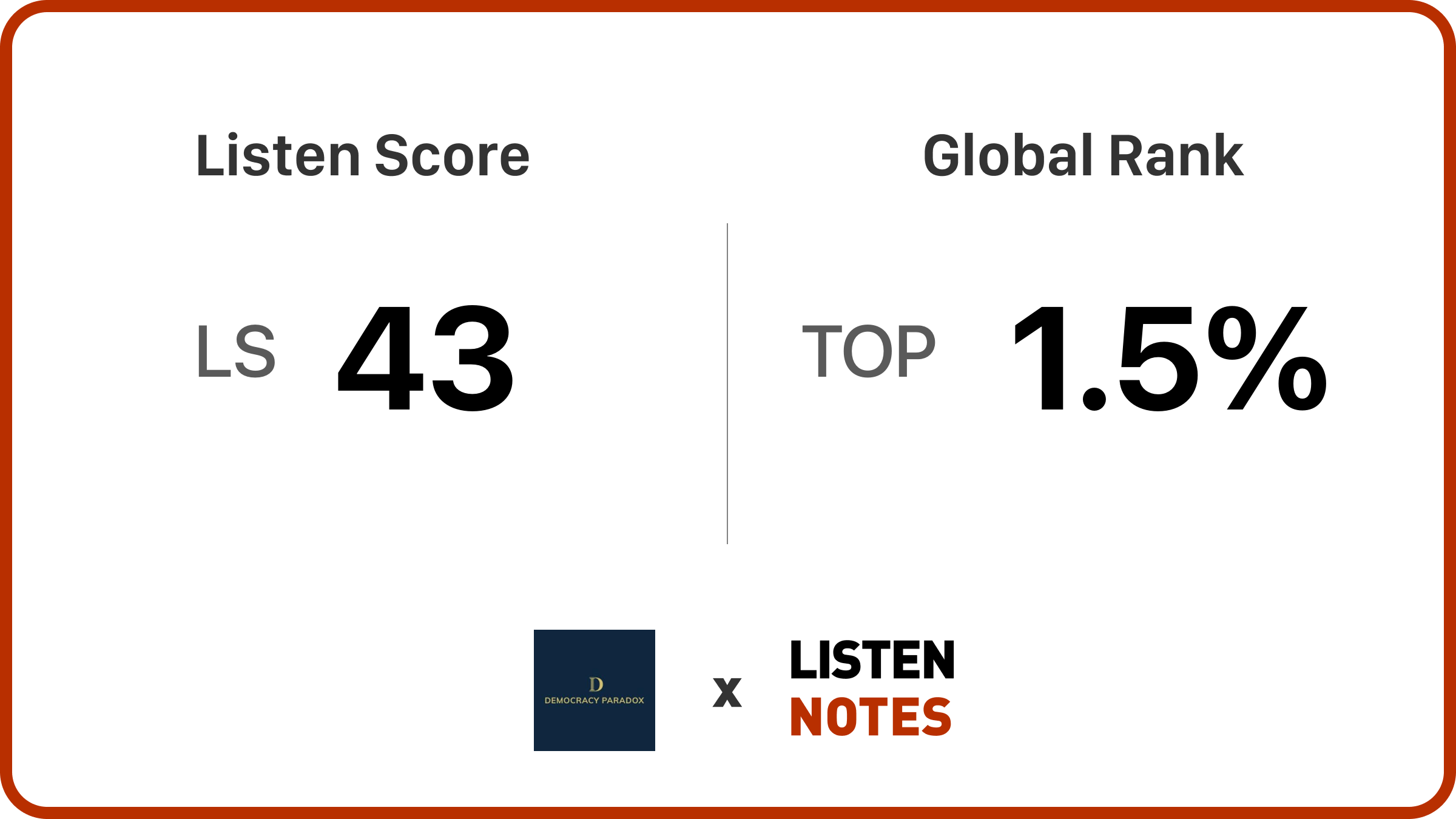 A Podcast About Democracy
Episodes have explored concepts as broad as civil resistance, Russian conservatism, populism, and direct democracy. Guests have ranged from Ivy League professors to former elected officials. Many episodes have featured scholars from around the world including Israel, Greece, and Germany. Episodes regularly integrate big picture concepts with current events and history to make difficult ideas come alive. 
The Democracy Paradox podcast is available on Apple Podcasts, Spotify, Google Podcasts, Stitcher, and just about anywhere podcasts are found. It is a proud member of the Democracy Group network of podcasts. Please subscribe and leave a review wherever possible. Your support keeps this website and the podcast alive. Below is a list of past episodes.
Most Recent
Heather Cox Richardson on History, Conservatism, and the Awakening of American Democracy
Daniel Ziblatt on American Democracy, the Republican Party, and the Tyranny of the Minority
Is Reunification Still Possible? Victor Cha and Ramon Pacheco Pardo on Korea
Deng Xiaoping is Not Who You Think He is. Joseph Torigian on Leadership Transitions in China and the Soviet Union
Robert Kaplan on the Politics of the Past and Future of the Greater Middle East
Is India Still a Democracy? Rahul Verma Emphatically Says Yes
Cass Sunstein on Interpreting the US Constitution
Marc Plattner Has Quite a Bit to Say About Democracy
Is McKinsey and Company a Threat to Democracy? Michael Forsythe Shares His Reporting
Sergei Guriev Revisits Spin Dictators
Berk Esen and Sebnem Gumuscu on the Disappointing Elections in Turkey… or How Democratic (or Autocratic) is Turkey Really?
Episodes 151-160
Hal Brands Thinks China is a Declining Power… Here's Why that's a Problem
Natasha Wheatley Raises Some Really Difficult Questions About Sovereignty
Sebastian Edwards on the History of Neoliberalism in Chile
Dan Slater on Thailand's Revolutionary Election
Peter Turchin Wants to Avoid Political Disintegration
Isabel Kershner on Israel and its Divisions
Daron Acemoglu on Technology and the Struggle for Shared Prosperity
Serhii Plokhy on the Russo-Ukrainian War
Anne Applebaum on Autocracy, Inc
Episodes 141-150
Marsin Alshamary on Iraq's Struggle for Democracy
Jamie Susskind Explains How to Use Republican Ideals to Govern Technology
James Goldgeier on NATO, its Enlargement, and its Future
Steven Simon on American Foreign Policy in the Middle East including Iran and the Wars in Iraq
Larry Bartels Says Democracy Erodes from the Top
Samuel Woolley on Bots, Artificial Intelligence, and Digital Propaganda
Josh Chin on China's Surveillance State
Staffan Lindberg with a Report on Democracy in the World
Srdja Popovic on Dilemma Actions
Wendy Hunter on Lula, Bolsonaro, January 8th and Democracy in Brazil
Episodes 131-140
Jennifer Piscopo on the Constitutional Chaos in Chile
Martin Wolf on the Crisis of Democratic Capitalism
Anna Grzymala-Busse on the Sacred Foundations of Modern Politics
Francis Fukuyama Responds to Liberalism's Discontents
Patrick Deneen Offers a Powerful Critique of Liberalism
Michael Walzer on Liberal as an Adjective
Robert Kagan Looks to American History to Explain Foreign Policy Today
Olivier Zunz on Alexis de Tocqueville
Lynette Ong Describes How China Outsources Repression
Olga Onuch and Henry Hale Describe the Zelensky Effect
Episodes 121-130
Elizabeth Economy in a Wide Ranging Conversation About China
Richard Wike Asked Citizens in 19 Countries Whether Social Media is Good for Democracy
Naunihal Singh on the Myth of the Coup Contagion
Mohammed Ali Kadivar on Paths to Durable Democracy and Thoughts on the Protests in Iran
Michael Ignatieff Warns Against the Politics of Enemies
Emilee Booth Chapman Has Ideas About Voting with Profound Implications
Jason Brownlee Believes We Underestimate Democratic Resilience
Allie Funk of Freedom House Assesses Global Internet Freedom
Jeremi Suri on America's Unfinished Fight for Democracy
Frank Dikötter on the History of China After Mao
Episodes 111-120
Larry Diamond on Supporting Democracy in the World and at Home
Lynn Vavreck on the 2020 Election and the Challenge to American Democracy
Sarah Cook on China's Expanding Global Media Influence
Constitution Makers on Constitution Making: Hassen Ebrahim on South Africa's Constitution
Simon Usherwood on Boris Johnson, Liz Truss, and the Nested Games of British Politics
Steven Levitsky and Lucan Way on the Durable Authoritarianism of Revolutionary Regimes
Laura Gamboa on Opposition Strategies to Resist Democratic Erosion
Kim Lane Scheppele on Hungary, Viktor Orbán, and its Democratic Decline
Jessica Pisano on How Zelenskyy Changed Ukraine
Neil DeVotta on the Protests in Sri Lanka
Episodes 101-110
Aynne Kokas on the Intersection Between Surveillance Capitalism and Chinese Sharp Power (or How Much Does the CCP Already Know About You?)
Michael McFaul and Robert Person on Putin, Russia, and the War in Ukraine
Scott Mainwaring on Argentina and a Final Reflection on Democracy in Hard Places
Lucan Way on Ukraine. Democracy in Hard Places.
Michael Coppedge on Why Democracies Emerge, Why They Decline, and Varieties of Democracy (V-Dem)
Rachel Beatty Riedl on Benin. Democracy in Hard Places.
Ashutosh Varshney on India. Democracy in Hard Places
Evan Lieberman on South Africa
Kathryn Stoner on How Putin's War has Ruined Russia
Episodes 91-100
Scott Radnitz on Why Conspiracy Theories Thrive in Both Democracies and Autocracies
Ronald Deibert from Citizen Lab on Cyber Surveillance, Digital Subversion, and Transnational Repression
Marta Dyczok and Andriy Kulokov on the Media, Information Warriors, and the Future of Ukraine
Yascha Mounk on the Great Experiment of Diverse Democracies
Mark Beissinger on Urban Civic Revolutions
Craig Whitlock on the Lessons Learned in Afghanistan
Miles Rapoport on How We Can Achieve Universal Voting
Between Russia and China: Anja Mihr on Central Asia
Moisés Naím on the New Dynamics of Political Power
Episodes 81-90
Jennifer Brick Murtazashvili and Ilia Murtazashvili on Afghanistan, Local Institutions, and Self-Governance
Sarah Repucci from Freedom House with an Update on Freedom in the World
Elisabeth Ivarsflaten and Paul Sniderman on Inclusion and Respect of Muslim Minorities
Debasish Roy Chowdhury and John Keane on the Decline of Indian Democracy
Lisa Disch on Representation, Constituencies, and Political Leadership
Joseph Fishkin on the Constitution, American History, and Economic Inequality
Bilal Baloch on Indira Gandhi, India's Emergency, and the Importance of Ideas in Politics
Sara Wallace Goodman on Citizen Responses to Democratic Threats
Joseph Wright and Abel Escribà-Folch on Migration's Potential to Topple Dictatorships
Robert Lieberman, Kenneth Roberts, and David Bateman on Democratic Resilience and Political Polarization in the United States
Episodes 71-80
Angus Deaton on Deaths of Despair and the Future of Capitalism
Zeynep Pamuk on the Role of Science and Expertise in a Democracy
Caitlin Andrews-Lee on Charismatic Movements and Personalistic Leaders
Stephan Haggard and Robert Kaufman on Democratic Backsliding
Joshua Yaffa on Truth, Ambition, and Compromise in Putin's Russia
Zoltan Barany on the Ineffectiveness of the Gulf Militaries
Amory Gethin on Political Cleavages, Inequality, and Party Systems in 50 Democracies
Daniel Brinks on the Politics of Institutional Weakness
Elizabeth Perry and Grzegorz Ekiert on State-Mobilized Movements
Susan Rose-Ackerman on the Role of the Executive in Four Different Democracies
Episodes 61-70
Tom Ginsburg Shares his Thoughts on Democracy and International Law
Robert Meister Believes Justice is an Option
Martin Conway Believes "Democracy Owes its Durability Not to its Principles but to its Flexibility." Democracy in Western Europe from 1945 to 1968
Donald Horowitz on the Formation of Democratic Constitutions
Guillermo Trejo and Sandra Ley on the Political Logic of Criminal Wars in Mexico
Rana Siu Inboden on China and the International Human Rights Regime
Timothy Frye Says Putin is a Weak Strongman
Kathryn Stoner on Russia's Economy, Politics, and Foreign Policy
Karen Greenberg on the War on Terror, Donald Trump, and American Democracy
Charles Kupchan on America's Tradition of Isolationism
Episodes 51-60
Aldo Madariaga on Neoliberalism, Democratic Deficits, and Chile
Mallory SoRelle on the Politics of Consumer Credit
David Stasavage on Early Democracy and its Decline
Christophe Jaffrelot on Narendra Modi and Hindu Nationalism
Jan-Werner Müller on Democracy Rules
Dorothy Sue Cobble on the Full Rights Feminists
Freedom House: Sarah Repucci Assesses Freedom in the World
Michael Miller on the Unexpected Paths to Democratization
Daniel Carpenter Revisits the Petition in 19th Century America
Episodes 41-50
Sebastian Strangio Explains the Relationship Between China and Southeast Asia
Can America Preserve Democracy without Retreating from it? Robert C. Lieberman on the Four Threats
Kurt Weyland Distinguishes Between Fascism and Authoritarianism
James Loxton Explains Why Authoritarian Successor Parties Succeed in Democracies
Derek W. Black Says Public Education Represents the Idea of America… Not its Reality
Sheryl WuDunn Paints a Picture of Poverty in America and Offers Hope for Solutions
Mike Hoffman on How Religious Identities Influence Support for or Opposition to Democracy
Shari Davis Elevates Participatory Budgeting
Chris Bickerton Defines Technopopulism
Ross Benes on Nebraska and Rural Conservatism
Episodes 31-40
Chad Alan Goldberg on the Wisconsin Idea and the Role of the Public University in a Democracy
Elizabeth Nugent on Polarization, Democratization and the Arab Spring
Ryan Salzman is an Evangelist for Placemaking
Kajri Jain Believes Democracy Unfolds through the Aesthetic
Nic Cheeseman and Gabrielle Lynch on the Moral Economy of Elections in Africa
Thomas Carothers and Andrew O'Donohue are Worried About Severe Polarization
Can Democracy Survive the Internet? Nate Persily and Josh Tucker on Social Media and Democracy
Jacob Hacker and Paul Pierson on the Plutocratic Populism of the Republican Party
Bryn Rosenfeld on Middle Class Support for Dictators in Autocratic Regimes
Zizi Papacharissi Dreams of What Comes After Democracy
Episodes 21-30
Winston Mano on Social Media and Politics in Africa… And what America can Learn from Africa about Democracy
Michael Hughes on the History of Democracy in Germany
Lee Drutman Makes the Case for Multiparty Democracy in America
Hélène Landemore on Democracy without Elections
Glenn Tiffert on the Manipulation of Academia by Foreign Governments
Carolyn Hendriks, Selen Ercan and John Boswell on Mending Democracy
Mareike Ohlberg on the Global Influence of the Chinese Communist Party
Xiaoyu Pu on China's Global Identities
John Ikenberry on Liberal Internationalism
Amy Erica Smith on Politics and Religion in Brazil
Episodes 11-20
William G. Howell and Terry M. Moe on the Presidency
Barbara Freese on Corporate Denial
Paul Robinson on Russian Conservatism
John Matsusaka on National Referendums
Jonathan Pinckney on Civil Resistance Transitions
Erica Chenoweth on Civil Resistance
Jill Long Thompson on Character in a Democracy
Juliet B. Schor on the Sharing Economy
Episodes 2-10
Agnes Cornell and Svend-Erik Skaaning on the Interwar Period
John Gastil and Katherine Knobloch on Citizen Initiative Review
Joshua J. Dyck and Edward L. Lascher, Jr. on Initiative Referendums
William S. Smith on Irving Babbitt
Takis Pappas on Populism and Liberal Democracy
Alexander Cooley and Daniel Nexon on the End of American Hegemony
Luis Cabrera on International Human Rights
Marlene Mauk on Citizen Support for Democracies… and Autocracies